Free as in free beer: We're proud to announce that our newest free calendar is now available.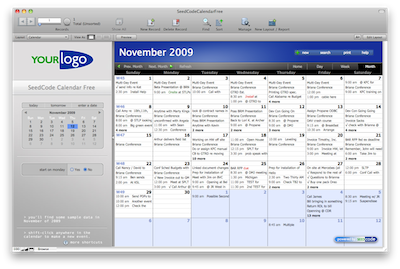 This new free calendar may be all the calendar some people need, but it's also a peek under the hood at the engine behind our new Pro Calendar… coming Feb 16.
The big story here is portability: both the free calendar we've released today and the Pro Calendar coming on the 16th can be pasted directly *into your file* and show your existing events in the calendar. While we've added some new features to the Pro Calendar–think drag & drop– this calendar is far easier to modify than our previous versions. And it's much faster. Especially over the WAN.

If you want a preview of how this all works, our Free Calendar is completely unlocked and uses the same engine as Pro–the same simple graph– and it pastes into your file the same way Pro does. No plugins required, just native FileMaker 10 goodness. Or take a peek at the Pro Calendar here.
On Sale:
Need More? Between now and the 16th, you can purchase one of our Pro Calendars at a 30% discount and dive into the code that made SeedCode famous, then receive the new calendar for free on Feb 16 and see how far we've come.
Details:
SeedCode Calendar Free requires FileMaker 10 and can be found at the top of the page here:
http://www.seedcode.com/downloads
Our current Pro Calendars are on sale for 30% off through Feb 15. These require FileMaker 8.5 or higher and can be found here:
http://www.seedcode.com/calendar
(No other discounts apply, and this sale does not apply to upgrades, which are already discounted.)
If your purchase Pro or Pro Complete during this sale you'll received a free upgrade to the new FM10 Pro calendar on Feb 16. This calendar replaces "Pro"; our new replacement for "Pro Complete" won't be done until late Q2 and isn't part of this offer.
If you already own Pro you'll be able to upgrade at a discount on the 16th so you should wait. If you're new to SeedCode Calendar, however, this offer is a good way to get on board.