This is the first of a series of posts on how to tune your work for FileMaker Go. We're working on some very exciting tools and solutions for Go, and we're hoping to share some of our insights along the way.
If you're not careful…
Even when designing a layout specifically for FileMaker Go, it can be tough to get field entry looking good. If you're not careful you can have a pretty messy display when entering a field: the field height jumps, content moves to the left, etc. (Screen shots are from FMGo for iPad.)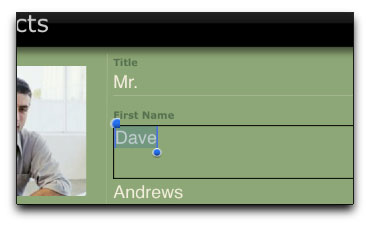 Sweat the details…
If you follow a few simple rules, however, you can have your fields look and behave just great when you enter them. Text doesn't move, field height doesn't change. Good stuff. And stuff users expect: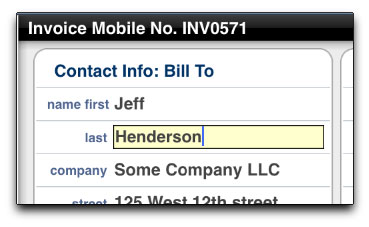 You'll want to tweak this a bit for your own look and feel, but here are the field properties we're using for FMGo on the iPad in our new product GoZync:
Font:   Helvetica, 17pt, Bold
Field Height:   24px
Fill Color:   Pale Yellow, RGB ( 255, 255, 204 )
Borders:   None
Scrollbars:   On (yes, on)
Conditional Formatting:   On. Use a calc set to equal 1 (always evaluates, unless you're in the field, in which case it reverts to the field's fill color), with a fill color of white (or whatever color your layout requires).
Appearance:   Left indent of 1px (in the appearance tab of inspector)
Vertical Alignment:   Center
Enjoy!