The PauseOnError schedule as published by Zulu. Of course the day view is a little more readable.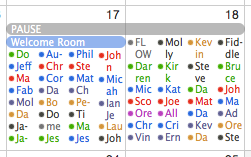 Flying out to JFK now, I'm continually amazed at how many people are willing to drop everything, fly to NY in the cold of February, and stick their necks out by hosting sessions at Pause. (Of  around 120 attendees we have something like 44 speakers.) It is more than a little humbling.
Who knows where this Pause thing is going (in terms of attendance, frequency, etc.) but I have a feeling we are all going to be getting on planes to be with each other, year after year, for a long time to come. At last I certainly hope so.